FANTIC XX 125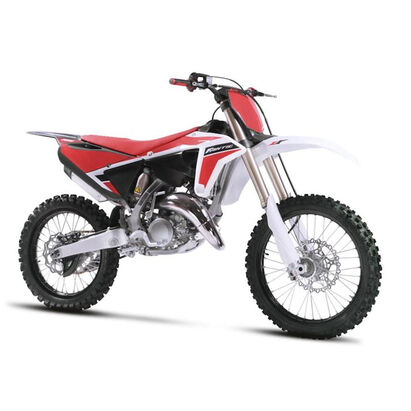 The Fantic 125 is the ideal bike both to accompany rookies beginning their racing career and for experienced riders striving for ambitious goals.The Fantic package, designed and built entirely in Treviso (Italy), is the resulting work of expert motorcyclists and engineers in the field of two-stroke, severe testing on the test bench and especially on the track. The Yamaha 2-stroke 125cc engine has been significantly modified. The 125cc developed by Fantic demonstrates a perfect balance between linearity of use from low to medium RPM, accompanied by a significant explosion of power in the high rev range.
The CDI control unit, developed directly by the Fantic Racing department, guarantees perfect combustion at every RPM. The expansion pipe by Arrow, is specifically designed for MX use at high RPM. An aluminium silencer body and the Mikuni TMX 38mm carburettor complete the package. Working on the optimisation of the engine, exhaust and control unit management, a performance has been achieved, that puts the new XX125 at the top of its category.
The frame is an aluminium semi-double cradle design, which guarantees high levels of rigidity and lightness. Kayaba's (KYB) suspension has been the benchmark in the off-road world for years and needs no introduction. KYB SSS (Speed Sensitive System) 48mm forks have 300mm of travel and are fully adjustable. These adapt to different levels of riding, from beginner to race professional and provide the pro riders with excellent adaptability for differing conditions. The mono shock absorber is also KYB, with 315mm wheel travel. Brakes are by Nissin, delivering power and control for both front and rear, with a 270mm disc at the front and a 245mm disc at the rear.The equipment is completed by Excel 21 x 1.60 – 19 x 1.85 rims, on which Dunlop MX 80/100-21 - 100/90-19 series tyres are mounted. Standard gear ratio is 13:48.The Fantic designers have worked in conjunction with the race test team, developing the ergonomics according to the requirements of modern motocross and supercross riding.
After much research by the Fantic Racing department, the ergonomics deliver outstanding rider comfort and control. The introduction of a very slim tank, radiator covers, side panels and seat, allows the rider enhanced freedom of riding position. The central section of the bike is characterised by a slender line, delivering maximum control and stability at speed. The reduced central space enables a firm rider grip in the knee area and allows for greater freedom of movement and control in corners, jumps and whoops.
Price: £6250
Featured Vehicles