FANTIC XE 125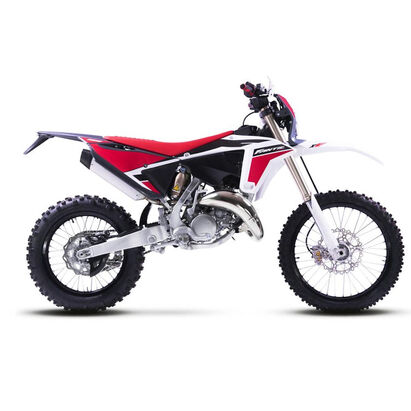 A perfect synergy between agility, versatility, performance, and ease of use, even in the most extreme situations; this is the new Fantic XE 125 Enduro. A race bike capable of guaranteeing easy riding and control, even on the most hostile trails.
Fantic XE 125 is the ideal bike for both amateurs and racers who want to fight at the top of their respective competition series. The reliability, versatility, and performance of the engine, combined with perfect dynamic ergonomics, position the XE125, from the outset, as a standout motorcycle in the world of Enduro.
The Yamaha 125cc liquid-cooled 2-stroke single cylinder engine, compared to the Motocross version, features an Enduro designed cylinder-head, with a lower compression ratio and the CDI control unit has a dedicated mapping for Enduro use.
The engine also differs from the MX version, as is equipped with an oversized generator to supply a 12V battery.
The exhaust of the XE 125 has been developed in collaboration with Arrow. The development delivers a new expansion system designed specifically for Enduro use, optimised particularly at low revs. The result is a perfect system, that guarantees remarkable torque at low RPM and excellent rider feedback even in the most technical and challenging sections. The slim silencer creates the voice of the motorcycle; whilst respecting noise emissions, it is configured for racing to deliver power and linear traction, without unnecessary tiring power peaks to manage. The silencer, manufactured with a new development in sound deadening material, is approximately 100mm longer than that of the MX version, yet is slim and stylish.
The chassis of the new XE 125 is an aluminium semi-double cradle. Whether running slow or fast, the XE 125 proves to be excellent; always offering agility, stability, traction, whilst it absorbs the roughest of terrain.
The Kayaba (KYB) 48mm SSS (Speed Sensitive System) forks, with 300mm of travel and Enduro settings, specifically designed by our Racing department, adapt to various riding styles; beginners or professionals, the suspension provides performance at the highest level. The KYB monoshock, with 315mm wheel travel, is separately adjustable for preload, compression and rebound.
The swingarm is made of alloy and the DID rims (21 x 1.60 – 18 x 2.15) are fitted with Dunlop Geomax EN91 tyres 90/90-21'' & 120/90-18''. Standard gear ratio 13:50.
The braking department is covered by Nissin, with 250mm disc on the front and 245mm on the rear.
Price: £6795
Featured Vehicles