CUX - RACE RED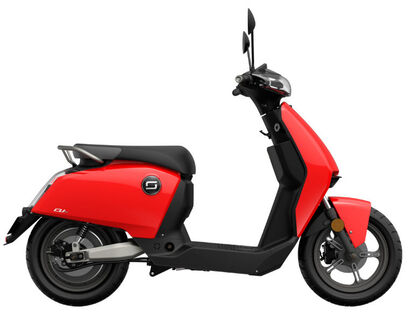 The new generation of smart electric scooter!

Smart. Sleek. Fun. The new Super SOCO CU-X integrated many intelligent and high efficiency designs to give you the most enjoyable riding experience.

Running costs are from only approx 1p per mile making this the best value for money motoring. The scooter can also be ridden on your driving licence or by anyone from 14 years of age. Ride away very quietly with just a £270 deposit.
Symmetrical U shape design integrated the head light and indicators. Hidden top LED head light. Built with hot runner process. Dust-proof and water-proof. Matrix type layout of light beads carving the style of light. It also benefits from in-line LED light beads. The all-in-one light system incorporated position, turning indicators and braking lights. The design is unique and stands out from other tail-light designs.
The bike benefits from a Bosch Hub motor providing a maximum of 2788w of Power supported by a 10kg Lithium-ion battery providing up to 40 miles of range.
Price: £2,695
£83 monthly
Featured Vehicles