CPX - BLACK RED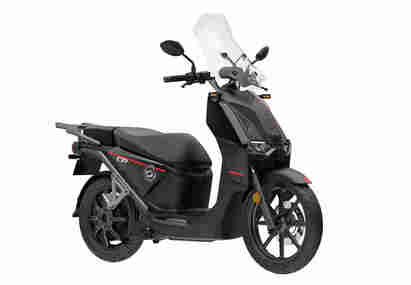 The Super Soco CPx is the new electric maxi scooter that does everything a 125cc petrol can do, but better.
Absolutely silent, completely ecological, with very low operating costs. The CPx does not envy the performance of its gasoline powered competitors (power figures similar to a 125 cm3). Nor the autonomy. The CPx is the most important 2020 model among those proposed by Super Soco, opening a new chapter. The Super Soco Style Center did a great job defining a silhouette that emphasizes innovation, and at the same time maintains a friendly, familiar appearance. The unusual windshield shape gives personality, and deviates the air from under the windscreen. The double optical unit with angular features emphasizes the technological content, while the side is extremely clean and linear to keep the shape as narrow as possible. In the rear, the CPx flaunts a frame tube that suggests an idea of robustness.
There is more to the CPx than aesthetics. The most important aspect of electric scooters are the batteries. The CPx has room for two 60 Volt/45 Ah - the second is optional and available at a special price - working in parallel and UN38.3 certified. With a 90 kg rider, they allow a range of 140 km, at a speed of 45 km/h. They can easily be removed for recharging at a power socket at home - 3.5 hours is enough. They have a 3-year warranty and can be subjected to 1200 cycles without problems.
The CPx does not fear comparisons with a 125: it reaches a maximum speed of 90 km/h and it does so with a linear smoothness that a gas-powered engine will never have. The electric motor provides 4000 Watt and terrific starting torque, 171 Nm. Despite being housed in the rear wheel the engine does not hinder dismantling: if you want to replace the rim it can be done in five seconds, a little more than a tire change in Formula One. The suspension set-up is comfortable: in front, there is a telescopic fork; behind, a single shock absorber on the left side. For the same reason - comfort - there is a 16" wheel at the front, which is less sensitive to roughness. At the rear a 14" tire with a higher profile was chosen to dampen the ride.
Price: £4495
Featured Vehicles